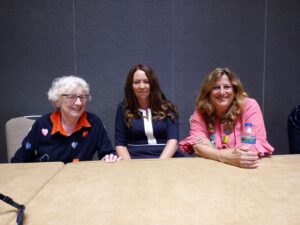 Emma Dakin, Alice Feeney and Elly Griffiths
August 31st – September 3rd.Bouchercon International Mystery Conference in San Diego was stimulating, informative, inspiring and great fun. I appeared on a panel on Friday Sept 1st with Elly Griffiths, (The Brighton Mystery and The Dr. Ruth Galloway Mystery series), Alice Feeney (Rock, Paper Scissors, Sometimes I Lie among other thrillers), Martin Edwards (The Coffin Trail, Gallows Court, crime fiction critic and historian), Caro Ramsay (Anderson and Costello series) and Francine Matthews/Stephanie Barron (Death in the Off-Season, Death on Tuckernuck series). They have all written more than I've noted here. What a panel!  The conference room was packed as these luminaries have a vast following, and the discussion was hilarious. I met Rhys Bowen (The Royal Spyness series and Molly Murphy series) and gave her an advanced copy of my Shadows in Sussex, as she had generously written praise which my publishers put on the back cover of Shadows in Sussex. Neither Julie Wasmarr nor Clara Benson who had also written plaudits of this book were at the conference. I was sorry to miss them. Two friends Linda and Colleen, avid readers, regular conference goers and experienced conference organizers, from Richmond, BC livened my weekend. They know so much about the authors and their works that conversation with them was an education.
September 12
Shadows in Sussex: The British Book Tour Mysteries Book 5 hit the book stores. I have had letters from readers and a fascinating interview with Donna Seebo (Seattle radio). She had read my book thoroughly and thought about the characters, setting and plot. I was amazed. (Gobsmacked, Claire would say). I don't have a link to our interview as the show has not yet aired. I'll send it out when I get it, but this is the site https://delphiinternational.com/authors-showcase/ where it will likely appear.
Expect Everything: A Nurse in the Cariboo-Chilcotin went through its last edit and is now in the publishing process. Release date is tentatively March 2024. The title hasn't had final approval yet. I like that title, so I hope it stays but who knows? Perhaps someone will come up with something irresistible.
Since the middle of September I have been working on Book 6 in The British Book Tour Mysteries. This one is set in the Cotswolds, particularly in Cirencester, a city I love. It isn't due for release until September 2024, so I have lots of time.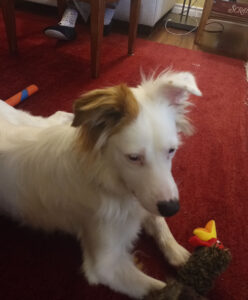 On top of all this writing, I acquired a new dog. Carly is supposed to be about three, but she seems such a puppy I'm going to check that with my vet. I think the will be able to tell from Carly's teeth. In any case, my cat is delighted with the new dog, as my former dog forced her to live in the upper floor of my house because Heidi, my late miniature Schnauzer, thought Molly, the cat, was a rat with fur and was determined to rid the house of such vermin. Poor Molly. Carly, on the other hand, recognizes that Molly is the true queen of the house and treats her with deference, even going so far as to sit back and watch while Molly eats her food. Needless to say, the social dynamics of the household are lively.
,