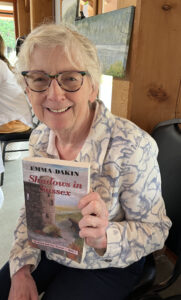 I know "plunging into Festivals" is a mixed metaphor and doesn't make sense, but it feels as though I have been swimming in book sales, readings, workshops—all in a tidal wave of activity. So, I'm stretching that metaphor to encompass the events of the past month.
The Words and Arts Festival in Gibsons was full of activity and small enough that everyone got to partake of most events. You didn't have to choose to miss one in order to take in another. A pair consisting of an artist and an author created a piece for the festival. Each was unique and, for the most part, surprising. The Bookmobile from the Little Bookshop in Squamish parked outside the market on Saturday and sold the books of those authors who had contributed to the competition for awards. Many people were able to get their books signed because the authors were there.
The next weekend Sechelt, a half-hour from my house, held their annual Writers' Festival. Local authors and artists set up at Seaside Centre to display their work and sell as much as possible. This also allowed authors and artists to speak with the many people who wandered through. I seem to be a magnet for nurses which makes me happy as they have so many stories.
Now, I am off to San Diego to partake in Bouchercon—Murder at the Marina to immerse myself in mysteries. I will have great fun on a panel with Stephanie Barron, Alice Feeney, Caro Ramsay, Elly Griffiths and Martin Edwards to talk about stories set in the UK. I've been asked to recommend authors in my newsletter, so I have linked my fellow panelists here. It is always exciting to listen to authors talk about their books and their plans for the future. They are a lively and intelligent bunch and I will enjoy the three days there—besides I won't have to cook and that's a bonus.
Shadows in Sussex: The British Book Tour Mysteries Book 5 will be released Sept 12th. I have an advanced copy and it can be preordered (US UK Canada). I have scheduled a launch at the Gibsons Public Library (and on Zoom) for October 21st. I'll send the address next month. I'm quite excited about this one as my advance readers say it's the best. That ought to motivate me to do well by the next one.
I am on the pacific Coast waiting for rain. I know those of you in California are tired of rain but we haven't had any for a long time and our vegetation is dry. I have not been caught in the fire zone that has affected much of this province, but we are worried about the drought. There are clouds gathering now so I am hopeful.