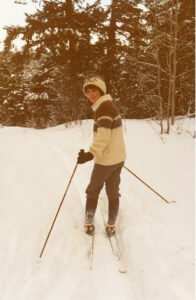 Skiing on the Ranch
Typically, I'm juggling several things at once—but not skiing.
My next book after Always Pack a Candle needs research, so I am flying to the Cariboo at the end of the month for a few days research in the museum, in the newspaper's archives and at the local pub. To support my research and writing, the BC Arts Council has awarded me a monetary award for which I am most grateful. The competition for this award is  highly competitive (their words) and I am delighted to be chosen by the jury.
During this trip to Williams Lake I'm hoping people will see the advertising for the signing at The Open Book and meet me there or at the pub that evening. They will bring their stories and remind me of people and events I may have forgotten. It will still be winter up there, so I will leave the crocuses, daffodils and budding fruit trees for the snow and ice, but also the sun. It is often sunny in the Cariboo. I can hope.
My local writers and editors association is very active and has designed an event in August that features partnerships of an author and an artist. We are matched by drawing our names from a hat and the artist is charged with creating something that reflects the author's work or the author can write something that connects with the artist's work. We tried it last year and the results were amazing. I didn't participate last year except as an onlooker, but this year I have been paired with Kevin Wells and I feel lucky. Check out his work www.kevinjwells.com
I discovered a story I'd written for the middle grade reader in a box in the basement in one of my determined efforts to get rid of "stuff". It was written on an Olivetti typewriter and, since I was the one of the early computer-users, it must have been written a very long time ago. Before I threw it out, I read it. It made me laugh all the way through, so I decided I'd put it on my computer and think about doing something with it. I discovered an excellent (free) voice-to-text program and read it to the microphone on my computer which translated it into text. It even put in all the periods without me telling it to, just reacted to the natural drop in my pitch at the end of a sentence. It saved me hours of transcribing time.
I tried more techy work. I ran a Facebook ad this month. Welcome to the new people on my newsletter list. That took some time and creative design but the results were great. I am happy so many of you decided to investigate Emma Dakin and her mysteries. Lovely to have you with us. As you can see by the newsletter (Join button at the end of tis post) another British Book Club Mysteries is being released Sept 12 2023. It is called Shadows in Sussex and, of course, lands Claire Barclay into the middle of a murder investigation. My editor thinks it's the best one. You can let me know.
Another new techy program that has come along recently is the ChatGpt, a creative Artificial Intelligence writer, which can create apparently sensible paragraphs. Clara Benson, well known mystery writer, asked it to create a biography for her and it said that she was a pen name of Agatha Christie, that she wrote in the 1920s and described the works she had created (which Clara has written) but attributed them to Agatha Christie. Clara supplied her picture with the comment that she looked pretty good for a 132-year-old. I decided to try that myself and asked ChaptGpt to write the bio for Emma Dakin. It turns out that ChatGPT thinks I live in New York (other coast from Gibsons, BC), got a creative writing degree (Nope, a science degree) and gave me a husband (I have a dog). It also gave my protagonist Claire Barclay a husband named Terry who owns the business with her. (Not in my book.) It's an inventive biography but not reflective of my life.
I don't think writers need to worry about the possibility of Artificial Intelligence programs taking over our jobs. They can't keep the facts straight.