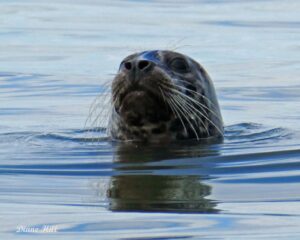 Photo Diane Hill
Summer is here.
I won the 2022 Lieutenant-Governor's Community History Award. How surprising. I didn't even know my publishers had submitted it for consideration. I was also a Finalist for the Lieutenant-Governor's Medal for Historical Writing which was won by Barry Gough for Possessing Meares Island. I hadn't considered that when I was writing the story of my early years of nursing in the Cariboo, I was writing history. It doesn't feel that long ago to me. I expect I will have to embrace the label of an historic old lady.
It was an honour to have my book Always Pack a Candle: A Nurse in the Cariboo Chilcotin chosen for such a prestigious award. When I look at the wonderful books in the competition I am humbled.
Honorable mentions were won by Craigdarroch Castle in 21 Treasures, by Moira Dann (TouchWood Editions); Becoming Vancouver: A History, by Daniel Francis (Harbour Publishing); and Pinkerton's and the Hunt for Simon Gunanoot, by Geoff Mynett (Caitlin Press).
The last book is written about Simon Gunanoot who is the great, great, great grandfather of my grandchildren (if you can follow that). So my grandchildren had one relative recognized for writing a book and another recognized as being fascinating enough to be written about.
The award was judged on the following criteria:
Scholarship: quality of research and documentation, freshness of material, comprehensiveness, objectivity and accuracy.
Presentation: organization, clarity, illustrations and graphics.
Accessibility: readability and audience appeal.
I have never received such recognition for my writing and I am not yet over it. And yes, I am thinking about doing a sequel.
The BC Bestsellers List only considers you eligible for a year, so my long run on that list has come to an end.
I left my tape recorder behind when I was in England into which I had dictated quite a bit of research. It is on its way to me this week so I will start on the revisions of Overkill in Kent which I think I will change to Shadows in Sussex. The research is going to direct a big re-write. It is not efficient to visit the setting AFTER you have written the book. It is much more efficient to visit before. But needs must when Covid complicates life.
But first, I'm going to have a holiday. My nine-year-old granddaughter is coming to visit so we will go to the beach, she will go sailing, biking and kayaking and we will attend markets and musical events in the park. She's delightful; I plan to be entertained.
May the universe hold back any disasters so we can all enjoy the summer.