I have been to England and enjoyed every minute. Book 5 is set in Rye, Sussex and Kent and Book 6 is set in Cirencester in the Cotswolds.
May is bluebell and wild garlic season especially in the Cotswolds and there were carpets of both beneath the beech trees. Cirencester was more beautiful than I expected and I was able to walk most of the places I needed to see. Because I couldn't get to either place before I wrote the book, this trip was necessary to make sure I hadn't made mistakes. I had. Where I had the murdered man discovered was not a practical spot. So, I wandered around the parks and lanes where there were ditches trying to find the perfect spot. I had a lot of help. It's amazing how many people are willing to offer suggestions when in response to "Oh, you're from Canada. What brings you here?' I say, "I write murder mysteries and I'm looking for a good place to stash a body."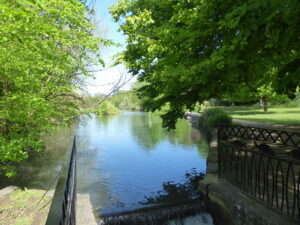 Abby Lake, behind St. John Baptist Cathedral looked to be perfect.
I loved this city: the bird song, the Roman history, the hare motif, the excellent food and the music.
Book 5 is set in Rye and Kent. I spent three days in Rye. This is small city that centuries ago was on the English Channel but now is three miles from it behind the Romney Salt Marshes. I stayed two nights in the Mermaid Inn which has a sign telling travellers that it was rebuilt in 1420. I don't believe there is a straight wall or a level floor in the place, but it was charming. I stayed one night at the Ship Inn,Rye, which was also old. The clerk there told me that all the hotels were connected by smugglers' tunnels.
"Still useable?" I asked.
"Sadly, not," she said. "They are too small for today's people."
I wondered about that. Surely they weren't that small back inn the day. I imagine she wanted to discourage explorations. I wasn't tempted.
I decided I needed to see the police station because I had used two policemen from that station in my book and had characters going to the station. The sign on the door was a surprise.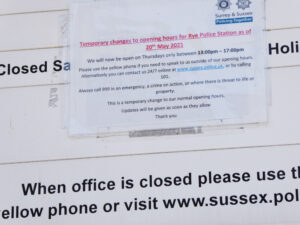 Only open Thursdays from 1 to p.m. I will have to rewrite.
I also set a scene at the Martello, the small tower which I understood to be at the edge of town. It wasn't at the edge of town; it was three miles away in Rye Harbour. I got a taxi to view Rye Harbour and was lucky the driver was from this town and willing to tell me about it. Thanks, Dave. But definitely a rewrite coming up
The Hoof restaurant was just as I expected. I ate there was delighted with it.
In fact I ate in many restaurants around Rye, all in pursuit of accurate research, of course.
Claire takes her tourists to Canterbury so I grabbed a train and spent two days there. Then home. I have a great many notes and about 800 photos so I'd say the trip was a success.