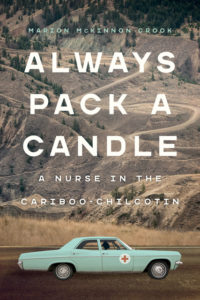 As Marion McKinnon Crook
This month my focus has been on the launch of Always Pack a Candle: A Nurse in the Cariboo-Chilcotin. It is the story of my early life as a public health nurse in the wild and vast interior of British Columbia. Heritage House of Victoria, BC, published the book which has a release date of May 25th. However, my niece bought it from an independent bookstore well before that date so I think the release date is somewhat fluid. It suddenly disappeared from Amazon but if you are looking for it there, have patience, as the publisher is working on reinstating it. The paperback is available on Amazon; it's the ebook they are looking to get back up. I am delighted with the design of the book. Really? It's lovely. The publisher has taken great care to produce a book of quality and it's a pleasure to behold.
Promotion has begun so podcasts, radio and newspaper interviews are scheduled. I will put up the links when I get them. First one is History Slam with Sean Graham
http://activehistory.ca/2021/05/historyslam181/
As Emma Dakin
I sent off the fourth book of The British Book Tour Mysteries. This one is called Danger in Edinburgh. It is not due to be released until October 2022, but there is a lot of work to be done in editing and production before that time. I was a little sad to let go of the book as I've been enjoying for the last year, partly because I was reliving some of my excursions in in Edinburgh and the surrounding area. It was wonderful when I visited there with friends and enjoyed so much of the Scottish life. My family on my father's side came from The Western Isle Benbecula. My daughter and I and friends visited there and some of the warm hospitality of the people seeps into the book. Constable McKinnon in the book comes from there. But I had to let it go because I have to start thinking about the next book and I surely want to plan another research trip to Britain in order to write it.
It seems as if the whole world is waking up a little with some optimism about what we can do in the next few months. I have a tiny vacation planned for October. And another few days in April. But I think I'm going to need two weeks next May in the Kent area of Britain. Let's hope my plans and everyone's plans are possible.