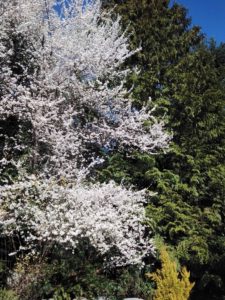 Spring has definitely arrived. Warm weather, blooming daffodils, hyacinths and violets. The racoons got the tulips. Apparently, tulip bulbs are a racoon's Mars bars).
I am finally back writing every day, albeit slowly. Who knows? Perhaps my end product will be more thoughtful if I write more slowly. I used to write out something in long hand if I was having trouble getting my ideas clear as that seemed to slow my thought process. I am quite sure I won't be happy with this slow paced for long. The frustration is a great motivator to do my physio.
I am revising the fourth book, Danger in Edinburgh, in The British Book Tour Mysteries series. I always like this process after my editor at Camel Press has read it and given me suggestions. It becomes better book and gets me quite excited. The third book in the series, Perils in Yorkshire is done and dusted and ready for production in the fall. Harlequin is distributing the first in the series, Hazards in Hampshire, and plans to distribute the second, Crime in Cornwall, in April.
April 13th is the release date for my story about my experiences of nursing in the Cariboo and Chilcotin in the sixties. Heritage House in Victoria is publishing it and leaving the cover with its turquoise car which somehow conveys a sense of adventure. I love that cover.
Having several books out in different stages of production and distribution is like having several children out in the world. It's fascinating to watch their progress, hoping they will be successful and keeping a sharp eye on them.