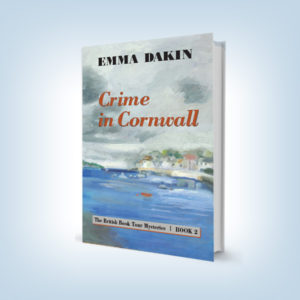 October brings a great deal of celebration with it, in spite of Covid. The publishers have managed to continue their busy production and released Crime in Cornwall on October 13th. I am awaiting the delivery of the books I ordered as I've promised them to reviewers and the library. The local bookstore has orders waiting fulfillment. The audio book is out, with Recorded Books with the same narrator. Bianca Amati give my character Claire Barclay the kind of accent that impresses me. It's all very exciting.
Covid means no face-to-face launch, although we will have a virtual one in December. I have to tell all those friends and interested people who came to my last launch how disappointed I am not to be able to meet with them and celebrate. It was so much fun last time. I will let you all know when the local library sets up the virtual launch and we can meet on line. I look forward to the questions I will get at the launch. The librarian, Sam, will moderate and take care of the technical aspects of the launch. That should mean a positive experience. We will be missing the cake, though. Perhaps everyone can prepare their own cup of tea and we can sip simultaneously.  I have discovered that some Cornwall farmers raise tea. I had no idea of it when I was there. The company is called Tregothnan. I will have to go back to Cornwall and try some of that tea.
I am in the blissful stage of writing on Book 4. Book 3 Perils in Yorkshire has been edited and is at the publishers, ready for the release next year. Book 4 is set in Edinburgh, a place I've visited many times. The rough draft is finished and now I have the pleasure of rewriting it, adding depth, paying attention to the character development, adding details that I keep finding and generally having a wonderful time. I need to get it out to readers in November, have it returned and rewrite it. I should be in time for my deadline in January.
The restrictions on meeting with friends makes it difficult for us all to stay connected. I meet with friends who are my outrigger crew, but we can't paddle outriggers because we can't stay six feet apart in the boat. So, we all now have kayaks that allow us to paddle in the ocean, keeping our distance, but still close enough to chat. I have a lovely, sleek, bright yellow, Delta 12-foot kayak which I've had out twice. At this time of year, we have to stay on shore when the winds are blowing and we've had one such disappointment this month. With luck, the winds will be calm for the next while and we can get out to see the wild birds, seals and sometimes whales that live close by. With luck, also, the cold weather will hold off until January, when I expect the ice in the harbour will keep us from venturing onto the ocean. I see many more people jogging along the trails, walking along the beaches and generally getting outdoors. I hope we manage to continue that.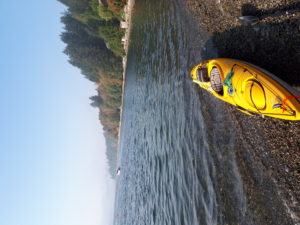 Good luck to you all in these difficult times.
The Virtual Tour November 9th – 22nd.
Every day for two weeks some form of interaction with Emma, as the writer of Crime in Cornwall will be interviewed, have a short blog posted, give a recipe typical of the area, or have one of the characters form the book writer her own opinion. I will be putting a reminder on Facebook. If you'd like to join me on Facebook just click in at @MarionCrookAuthor and the page should come up, or search for Marion Crook and Emma Dakin on FB and request a friend click. I'll do that part.
CRIME IN CORNWALL TOUR PARTICIPANTS
November 9 – I'm All About Books – SPOTLIGHT
November 9 – Author Elena Taylor's Blog – GUEST POST
November 10 – The Pulp and Mystery Shelf – AUTHOR INTERVIEW
November 10 – Maureen's Musings – SPOTLIGHT, RECIPE
November 11 – Sapphyria's Book Reviews – SPOTLIGHT
November 12 – Ascroft, eh? – CHARACTER INTERVIEW
November 13 – Book Club Librarian – REVIEW
November 14 – Literary Gold – SPOTLIGHT, EXCERPT
November 15 – Cozy Up With Kathy – CHARACTER GUEST POST
November 11 – My Reading Journeys – REVIEW
November 16 – My Journey Back – SPOTLIGHT, RECIPE
November 16 – Books a Plenty Book Reviews – REVIEW, GUEST POST
November 17 – Mysteries with Character -AUTHOR INTERVIEW
November 17 – Christy's Cozy Corners – REVIEW, CHARACTER GUEST POST
November 18 – Ruff Drafts – SPOTLIGHT
November 19 – Reading, Writing & Stitch-Metic – SPOTLIGHT, EXCERPT
November 19 – Here's How It Happened – SPOTLIGHT
November 20 – StoreyBook Reviews – GUEST POST
November 21 – Readeropolis – SPOTLIGHT
November 21 – Reading Is My SuperPower – SPOTLIGHT, EXCERPT
November 22 – I Read What You Write– CHARACTER GUEST POST
November 22 – eBook Addicts – REVIEW