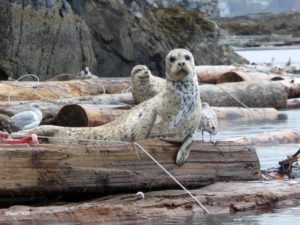 (Photo Diane Hill)
Not the seals. They are certainly wild, but keeping up with the Virtual Tour is a little wild. Of course, having my computer die and going through the pain of a new computer with new programs that required me to learn where everything was, made the process of answering twitters and posting challenging. Between the old computer and another new was an hour two of no protection, so some enterprising bot sent out a 100 messages in my name. I trust none of you got them. They all seemed to be in the entertainment industry, which I hope will just ignore them. I loaded two programs of malware protection. I trust my files are relatively safe now. It's unnerving to see an invasion on my email site.
It's been fun to connect with readers all over North America. And so far, the reviews have been very good.
Some of the interviews have surprised my friends who said they "didn't know that about me". I suppose, among friends, we don't ask detailed questions about work. And that's how they see my writing. It struck me as a little odd, though, as I wasn't revealing any secrets, so an assiduous search of the blog sites isn't going to be at all startling. Interesting, I hope, but not startling.
I would like to get back to Perils in Yorkshire which is the third book in the British Book Tour Mysteries series. I have ideas on how to make the draft better, but no time to work on it. After the tour and the launch on Dec 7th at the Gibsons Public Library, Christmas will be upon us and then I have a week's vacation and then it is January.
My mother used to say that I lived in the future and that I should stop and enjoy the present. I do try, but I'm usually planning the next project. I'd be happy to take advice on how to stop planning and start living in the moment. Yoga? I do stay in the moment when paddling. The curious seal was one of the many sea animals and birds we see while paddling on the ocean near my house. It's relaxing. We paddle and wait for nature to show herself.
The tour goes on to the following sites:
November 21 – That's What She's Reading
November 21 – Laura's Interests
November 22 – Diane Reviews Books
November 23 – I Read What You Write
November 23 – Escape With Dollycas Into A Good Book
November 24 – Celticlady's Reviews
November 24 – Cozy Up With Kathy