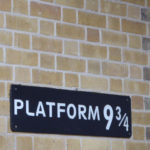 At Kings Cross Station in London Harry Potter has his own platform 9 ¾. People were lining up to take their picture with the sign. Amazing what can come from a wrtier's imagination. There were Harry Potter stores in most of the cities I visited. Good for Rowling. May we all be as successful.
I've been to Yorkshire. My third book in the British Book Tour Mysteries is set in Yorkshire and I have completed the first draft. This meant I could check facts and enjoy the country as well. I went with a friend and we managed to get to many of the sites in my book. It was a good thing I returned to the sites as I found I had misplaced a restaurant and incorrectly created a gully where there wasn't one. Ah well. The rewrite on that won't be difficult. Up on the moors, my travelling companions were scurrying around giving me advice on where to place the body. Everyone's imagination was involved.
I am working on the proofing of the first book Hazards in Hampshire which is out in October of this year. Proofing isn't fun, but it is the last chance for me to make sure all is correct and I am disciplined about doing it. The second book, Crime in Cornwall is with the editor.
I enjoyed the Yorkshire people—when I could understand them. I swear English doesn't have many consonants when a Yorkshireman speaks it. "Ow er ee?" translates as" How are you?" People on the street were outstandingly courteous and patient, and the country is beautiful.
It's lovely in Gibsons as well and my garden needs attention. So does my work, so it's back to the usual life.