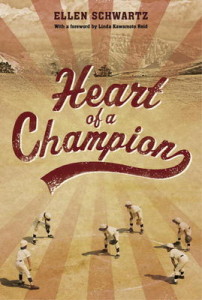 Heart of a Champion by Ellen Schwartz  (Middle grade)
Set in Vancouver, BC in the 1940s in the Japanese community Heart of a Champion  follows the experiences of a nine-year-old Kenny (Kenji) Sakamoto as his family is subjected to the racial prejudice of the times, disrupted, robbed by the government and sent to an internment camp. The story is told from Kenny's point of view throughout, a remarkable skill of the writer and one middle grade readers will appreciate. What the reader sees and understands is seen and understood through Kenny's eyes.  Kenny's has ambitions, but he must adapt, refocus, and work hard to find his way in a bewildering new environment. This is a wonderful story of a boy who did the best he could and found his own strength in facing  the physical  challenges, the emotional upheavals, and the social prejudice of those times.
The story should provide much discussion with other readers and within a family. Prejudice such as Kenny experienced happens today with much the same motivations as in the past. I have heard remarks such as Kenny heard only directed to Aboriginal people. Each era choses its own scapegoat and it is no more acceptable now than it was in the past.
This is a rare story that not only entertains but provokes the reader to think. This book is going to win prizes for excellence.