ow.ly/MPCln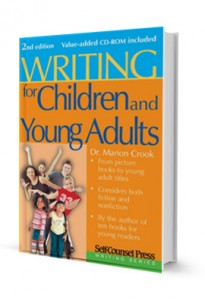 Writing for Children and Young Adults Revised edition as epub book  available now! Creation, revisions, publicity, sales. It's all there.  Very exciting to have a new book out. First time a book is epub only.
New edition includes:
The lively world of author on-line presence and marketing
New genre of New Adult
The perfect submission to agents and publishers
Updated fundamentals of writing: character, setting, plot packing, tension and conflict
The dynamic world of reading and writing has changed greatly over the past few years. Writers are pitching their ideas online, exchanging works in progress with critique partners and forming street teams to promote their work. The online community of writers is a fast-paced and often confusing place. In the publishing world today, writers need to direct online traffic to their book and stimulate sales. This new edition of Writing for Children and Young Adults explains the choices around online publicity that can overwhelm writers. I introduce the new opportunities in the genre New Adult for 18 -25-year-old readers. I revisit the fundamentals of writing: establishing character, creating lively dialogue and developing plot with stories from my own writing career and with updated worksheets and examples. This edition of the book shows the writer how to begin a story, plan plot, develop and hone it for an agent or publisher. It explains how to make the crucial submission for a book that agents want to represent and publishers want to buy. Writing for Children and Young Adults helps you create the book that succeeds.
Check it out and let me know what you like and what you'd like more of.