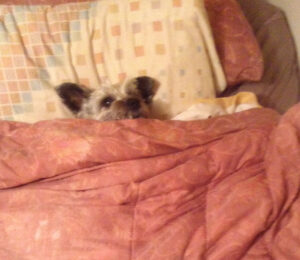 My dog has reluctantly decided that spring has finally come. She loves the sun; she is annoyed by the rain, even though she has some smart weatherproof outfits. We can't hope to compete with the tiny terrier down the street who has matching coats and leashes, but we make an effort. The coats are a help in the cold and damp, but she's not a fan. Heidi is a rescue dog from Mexico and, even with ten years here to acclimatize, she is irritated by the rain. I get "The Look" as if the weather was my fault. After a walk in the rain, I rub her head with a towel—which she loves, and her feet and tail—which she tolerates. Then she curls up on the sofa and I go into my study to work.
I am stymied. I have Book 5 and 6 of The British Book Tour Mysteries in draft form and I need to do research in Kent and The Cotswolds in England so I can discover more about the people and the places. The book lacks vitality without those details. I've booked the trip, but I've booked it before. This time I hope I manage to get there and nose around.
Always Pack a Candle took an abrupt dive on the BC Bestsellers' List from #3 position to #15 and then off the list it's been holding on the list since July 2020.Or so I thought, but when I rechecked the page I found I'd managed to keep position #14. My long run from July 2021 was sustained! The print run sold out and it's taken about a month to get the books back in the stores. If you want to find out if it has climbed up on the list or slid down tomorrow, check out
https://www.readlocalbc.ca/bc-bestsellers/
These things are of great interest oto authors. I know no one is going to follow this every Monday the way I do, but pop in occasionally and see how we're doing. A book on mushrooms and a recipe book are always in front of me. I bought the recipe book for my son-in-law. I'll have to get one for myself. When I check out Always Pack a Candle, I also see what great books are available written by others. I'm not so obsessed I only look at my own.
I'm thinking about writing a sequel to Always Pack a Candle but I'm only at the mulling it over stage.