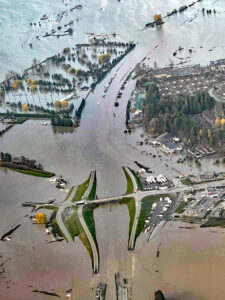 What happened to November? Wind and torrential rain happened, as you can see by the picture. That is an interchange on the main highway in the Fraser Valley. although my small corner of this area is relatively unaffected.
It's almost the end of the month. My blog tour starts tomorrow and I haven't let anyone know about it. It's two weeks of short blogs, character opinions, review and simple spotlights on different websites. I'll put the schedule at the bottom of this blog. Click on the appropriate day and see what comes up. I wrote some of these a month ago but some will be news to me. as I have no idea what the reviewers are going to say. I'm looking forward to readers' comments about the book and about the blog as I can't predict reactions—and it's fun to interact with readers.
Perils in Yorkshire The British Book Tour Mysteries Book 3 is launching at the Gibsons Public Library his Saturday, Dec 4th at 2 pm. This is an in-person and Zoom event. I apologize that the regulations won't allow me to serve cake, but do come, as I enjoy all the people who come to listen and ask questions.
The Zoom address is
https://zoom.us/j/95022061454?pwd=OW1BbVU2SEFEZ0NWdTVQdHVaUG5ZUT09
If you want to see the library poster, it is at this address
C:/Users/Marion/AppData/Local/Microsoft/Windows/INetCache/Content.Outlook/XLV2DAUE/Emma%20Dakin%20poster%20Dec%2021.pdf
It is lovely to be back at the library. It feels as if I'm grabbing back a bit of normal life.
Review
Perils in Yorkshire (British Book Tour Mysteries 3) by Emma Dakin (goodreads.com)
Always Pack a Candle A Nurse in the Cariboo-Chilcotin is still on the BC Bestsellers list. It's getting comfortable there, as it has been there since July. While I remember those days clearly and I am basically the same person I was although no longer quite so naïve, I marvel at the energy I had. I don't think I ever got tired. I'm more efficient today and can do more with less energy than I did ion the 60s. I should do a promo tour for it but haven't organized that yet. I'll let you know when I manage that.
Review
Always Pack A Candle: A Nurse In The Cariboo-chilcotin, Book by Marion Mckinnon Crook (Paperback) | www.chapters.indigo.ca
In the meantime, I am working on Book 5, Overkill in Kent. I am in the first rough draft and chapter 16. This is the draft where I plan all the plot lines, the character movements and the clues. It's hard work. The next draft is much more exciting. That's when I get to find the perfect word, make the characters shine and generally enjoy myself.
PERILS IN YORKSHIRE TOUR 
November 22 – StoreyBook Reviews
November 23 – Socrates Book Reviews
November 23 – Sapphyria's Book Reviews
November 24 – Christy's Cozy Corners
November 26 – Literary Gold
November 27 – Celticlady's Reviews
November 27 – Diane Reviews Books
November 28 – Brooke Blogs
November 29 – Here's How It Happened
November 29 – Nellie's Book Nook
November 30 – Novels Alive
December 1 – #BRVL Book Review Virginia Lee Blog
December 2 – Mysteries with Character
December 3 – Ascroft, eh?
December 4 – Maureen's Musings
December 4 – Escape With Dollycas Into A Good Book
December 5 – The Mystery Section
December 6 – BookishKelly2020