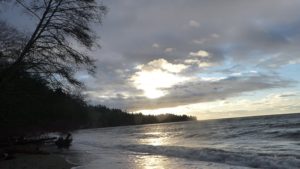 It may not be quite winter, but it feels like it. Today is a wickedly, blustery day. The forecasters promise us winds gusting to 100K, so likely causing power outages given the forest surrounding us. The waves should be huge. I've been waiting for it all day. So far, we've had just a gentle wind. If I was writing a novel, the storm would have been terrific.
Gale warnings were up on Saturday so we didn't go onto the water in our outrigger canoe. We can't paddle against high winds.
I am writing another novel. This one is set in Kent, England and so far I just finished chapter ten of an awkward rough draft. The next draft is the one I enjoy writing. This draft is work.
It's moving along,. The characters are beginning to have definite personalities, the plot is unraveling, and I'm beginning to see what I can make of the story. Much more than I have at the moment.
Always Pack a Candle is still on the BC Bestsellers List. It's still astounds me.
Perils in Yorkshire The British Book Tour Mysteries Book 3 was released on October 12th. I listen to the audio book narrated by Bianca Amata and found her ability to switch from a Tucson accent to a Yorkshire accent and then several different gradients of Yorkshire accents to be truly amazing. I realize she has an extensive background in theatre, so she's a master at this. I'm lucky she's giving another dimension to my book.
I am doing a tour for this book The middle of November. I will send out a notice on the newsletter when I have a list of tour spots and also post it on my website. It has another great painting by Teresa Hanson for the cover. I took a picture at Ralph's Cross which is on the Yorkshire Moors when I was there. This is the place where my companions gave me suggestions on where I can hide a body. We use the way sign instead of the cross for the cover. The view of the country is the way I saw it.
I miss the conferences and events where I meet readers. Maybe next year.