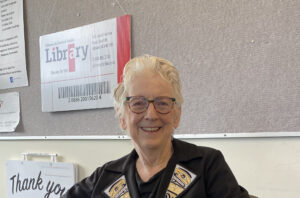 When school starts in September it seems the pace of life increases to warp speed. It make be that I have spent so many years in school that September is the time for busyness.
Perils in Yorkshire  is scheduled for release October 12th and I have received my advance copies. Again I love the cover—art work by Teresa Hanson. I will have launch for this book but not until December as October and November are very busy.
The launch for Always Pack a Candle at the Gibsons Public Library on September 18th was almost normal. Covid rules allowed for 20 places and there were 20 people in the chairs as well as more on Zoom. No cake. Covid rules made it difficult for me to buy a cake at Sandy's Bakery and serve it. Her cakes are much better than mine. However, it was fun to engage with real people after so many months of isolation.
Always Pack a Candle continues to be on the BC best sellers list. I think it's 15 weeks now. It's still gratifying as it's never happened to me before. I'm definitely enjoying it. It's amazing how many people have connections to the Cariboo-Chilcotin and contact me to tell me about them. It allows me to relive those days in the sixties when everything was new and exciting. One young woman working on my commuter ferry told me that her boyfriend had opinions on carrying a candle as emergency equipment. None of us felt it would be effective in minus forty temperatures.
There is a car in my home town that looks like the car on the cover of the book. I get asked if I own it. No, but I'd like to meet the owner. It seems to be in good shape still.