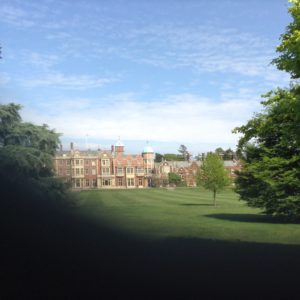 This is Sandringham, one of the homes of Queen Elizabeth II. I was there two years ago. I'm getting anxious to plan a trip to England to research Book 5. I watch the Covid rates in Britain with a personal interest. Will they go down enough so international travel is permitted? I find myself giving the television commentators public health advice as if they could hear me through the screen. The dog is the only one who listens. Even she doesn't believe in my ability to change the world. I had to cancel this research trip last year and I'm itching to get into Kent and the Cotswolds.
The publicity for Always Pack a Candle by me as Marion McKinnon Crook has been fun. A journalist Monica Lamb-Yorski interviewed for an article which appeared in The Williams Lake Tribune along with a picture they dug out of their archives of me in 1963. There are more reviews coming up. So far, people have enjoyed it. I am happy I wrote about those days and my naïve but determined attitude to the challenges of the times.
As Emma Dakin, I've finished the manuscript for the fourth book in The British Book Tour Mysteries. It is at the publishers for the copyediting and processing that goes on without me. We don't have a cover for it yet but it isn't due for release until October 2022 so we aren't in a hurry.
The summer is coming closer. My garden here on Canada's west coast is a jungle that needs constant trimming and ruthless pruning. I get busy for a week and then find when I look out my study window I can no longer see the street. Utopia is a place where the vegetables and flowers grow as fast as the weeds and that rampant bamboo. Roses are blooming everywhere.