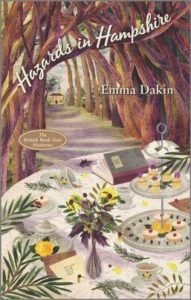 What a month! As some of you may have noticed I skipped the blog last month. I was unexpectedly in hospital—a surprise to me and my doctor. I am home on the road to recovery and getting physio for my awkward right hand which, as you can imagine, is frustrating for a right-handed writer.
Luckily, I have lots of time to do the revisions on Danger in Edinburgh so I'm hoping I become adept quickly. I have missed some promo and the active engagement in the writing world but hope to resume soon.
Above is the new cover for Hazards in Hampshire that Harlequin Worldwide Mysteries produced. It's charming- quite different.