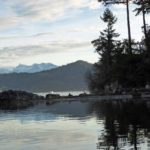 It has been a busy week. One of my occasional compelling activities is editing. Deadlines loomed this week, so I spent Canada Day chasing elusive commas, but got the manuscript in on time.
My third book of the British Book tour Mysteries Perils in Yorkshire is at the settling stage. I finished the rewrites but it has not yet been edited. It's not due at the editor's desk until the fall. I'll leave it alone for a while. It was wonderful to revisit Yorkshire in May and check facts, and revel in the glorious countryside. The story needs to sit and rumble in my mind for a few weeks. The first book of the series Hazards in Hampshire has passed the proofing stage and is ready for printing. The second Crime in Cornwall has been edited and rewritten and is now settling into the line-up at Coffeetown Press for publication next year. For the next few months, I will be concentrating on blogs and promo to give the first book its boost onto the marketplace. I envy the writer Cathy Ace who has a background in marketing. She does an amazing job of seemingly effortlessly sending out promo. I know she is a hard worker, but she also has comprehensive knowledge. I will be slightly less brilliant, but I will be determined.
Summer is here. I live at the beach. My grandchildren will arrive shortly. No writing gets done when there are lively kids in the house. I don't know how those busy mothers manage to write around their kids' schedules. I simply give in and follow the kids around, providing sailing lessons, swim gear, skate boards and food. They are readers, so we all hunker down in the evenings and read. I'm looking forward to it.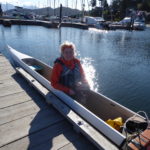 Thanks to all who asked. I am recovered from my back injury and have returned to paddling. It was wonderful to pick up my paddle and hop in the boat. The west coast waters are beautiful.